The trend of increasing quality and productivity in gardening and vegetable production requires new approaches and methods. In the recent years non-woven polypropylene fabric is applied more and more mainly in vegetable growing and gardening. For this segment, PFNonwovens Czech s.r.o. company offers non-woven fabric with the trading name of PEGAS-AGRO® . By means of continuous development we managed to improve the utility properties of materials as regards evenness and increased extensibility. As regards the utility properties for plant protection, PEGAS-AGRO® is one of the highest quality materials in the market.
PEGAS-AGRO® is offered in the widths and packaging suitable for large-scale production and mechanisation.
In the area of agriculture it is possible to use non-woven blanket fabric that is permeable for water, air and light and during vegetation it creates microclimate optimal for the plant development and growth. Plants are protected against weather changes (short-term frost), strong wind, hail and pests.
| | |
| --- | --- |
| Production technology: | spunbond |
| Input raw material: | 100 % polypropylene |
| Surface density: | 17 - 30 g/m2 |
| Max. width: | 15.8 m |
| Colour: | natural |
| Treatment: | UV stabilizer |
| Possibility: | reinforced rim – 350 mm |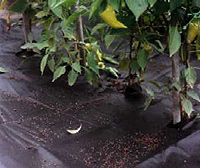 In the alternative agriculture, they often use black mulching fabric that is laid directly on the soil and prevents the growth and spread of weed, which significantly decreases or eliminates the need of herbicides. This fabric is water permeable, it allows the soil to get warm, minimises non-productive evaporation and prevents creation of soil crust.
| | |
| --- | --- |
| Production technology: | spunbond |
| Input raw material: | 100 % polypropylene |
| Surface density: | 45 - 90 g/m2 |
| Max. width: | 3.2 m |
| Color: | black |
| Treatment: | UV stabilizer |
PEGAS-AGRO non-woven fabric is supplied in the rolls with these dimensions:
| | | |
| --- | --- | --- |
| Roll width (m) | Length (build) (m) | Roll weight (kg) |
| 1,60 | 100 | 3,04 |
| 1,60 | 250 | 7,60 |
| 1,60 | 500 | 15,20 |
| 3,20 | 100 | 6,08 |
| 3,20 | 250 | 15,20 |
| 3,20 | 500 | 30,40 |
| 6,35 | 250 | 30,40 |
| 6,35 | 500 | 60,80 |
| 9,50 | 250 | 45,10 |
| 9,50 | 500 | 90,25 |
| 12,65 | 250 | 60,00 |
| 12,65 | 500 | 120,13 |
| 15,80 | 250 | 75,00 |
PEGAS-AGRO non-woven fabric with 350 mm reinforced rim is supplied in the rolls with these dimensions:
| | | |
| --- | --- | --- |
| Roll width (m) | Length (build) (m) | Roll weight (kg) |
| 12,65 | 250 | 61,90 |
| 12,65 | 500 | 124,00 |
| 15,80 | 250 | 76,90 |
| 15,80 | 500 | 153,85 |