Pegatex® SMS BICO - (spunbond/meltblown/spunbond) is non-woven fabric manufactured by the combination of Reicofil® 3 bi-component technologies spunbound (S) from polypropylene and polyethylene and meltblown (M) from polypropylene. The basic qualities of this type of non-woven fabric include excellent barrier qualities that are used to prevent liquid leakage in combination with the qualities of bi-component non-woven fabric. This type of fabric is used mainly in the applications of manufacturing of hygienic products (baby nappies, ladies hygiene products, incontinency nappies and towels).
Spunbond (S) part of SMS is manufactured by means of bi-component spunbond BICO Reicofil® 3 technology from polypropylene (core) and polyethylene (sheath). Polyethylene sheath of the individual filaments (continuous filaments) gives the resulting non-woven fabric specific qualities that include the following: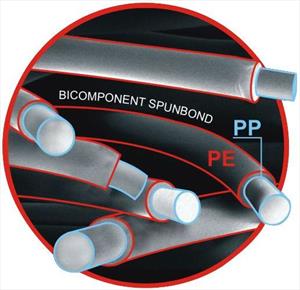 softness and very pleasant feel
excellent comfort qualities in contact with the most sensitive parts of human skin
higher elasticity
new quality for hygienic applications (baby nappies, ladies hygiene or incontinency products)
higher possibility of binding (polyethylene) with other materials for composite fabric
barrier qualities comparable with Pegatex SMS
These main advantages of Pegatex® SMS BICO non-woven fabric are present in all the applications where there is a direct contact with sensitive human skin with non-woven fabric. The main applications include baby nappies, ladies hygiene and incontinency nappies and towels.




Difference you can feel!

Pegatex® SMS BICO (bi-component spunbond) is manufactured by means of Reicofil® 3 technology on the equipment creating three layers of bi-component spunbond (SSS) and two layers of meltblown (MM) - SSMMS (the number of letters S and M marks the number of the individual layers).
Properties
Basic surface density from 12g/m2 to 60/m2
High barrier qualities and possibility of adjusting their intensity
Possibility of adjusting surface density of the individual SMS layer
Possibility of adjusting air permeability intensity
High chemical stability
Possible antistatic treatment
Harmless to health
Production
Input raw material:
meltblown (M): 100 % polypropylene
spunbond (S): 50-70 % polypropylene and 30-50 % polyethylene
Surface density:
12-60g/m2
Max. roll width:
3,2 m
Treatment:
antistatic treatment
Colour scheme:
according to the customer's requirements
Applications